Our Equipment Introduction Days consist of three courses, that may be taken separately or over a single day. These courses give you the knowledge and practical experience you need to start you on your digital fabrication journey. If you already have some background, that is great(!) This day will give you more experience, on each of the machines, the information you need to get started and practical activities you can practice from home.
The training consist of three courses (3d printing, Laser Cutting and CNC Routing) and a chance for hands-on experience with these machines - you can sign up to an individual tutorial or you can do it all in the one day.
Our approach is based on the principle of sharing our learning resources, so that in the Fab Lab you can concentrate on the making. We will send tutorials before the class and ask you to install some software at home. We will recommend free and open source software, and in particular, packages with good documentation and easily-available guides.
On the day we will make examples on each of the three machines: the CNC router, the laser cutter and the 3D printer. The exercises that you worked on at home will allow you to customise the design, teach you how to prepare the files so they are ready to be printed or cut. These objects you make, are like badges of your achievement - your first digitally fabricated trophie as well. Or a nice coaster, which you can proudly sit your drink on!
At Home
=======
On the day we will make examples with each of the three machines: the CNC router, the laser cutter and the 3D printer.
We will make a one-day project divided in three independent parts. Learners will make their own customised coasters made of :
A 3D printed medal in the centre.
A customised Laser cut wooden Ring in the outside.
A CNC wooden case to enshrine the two above mentioned parts.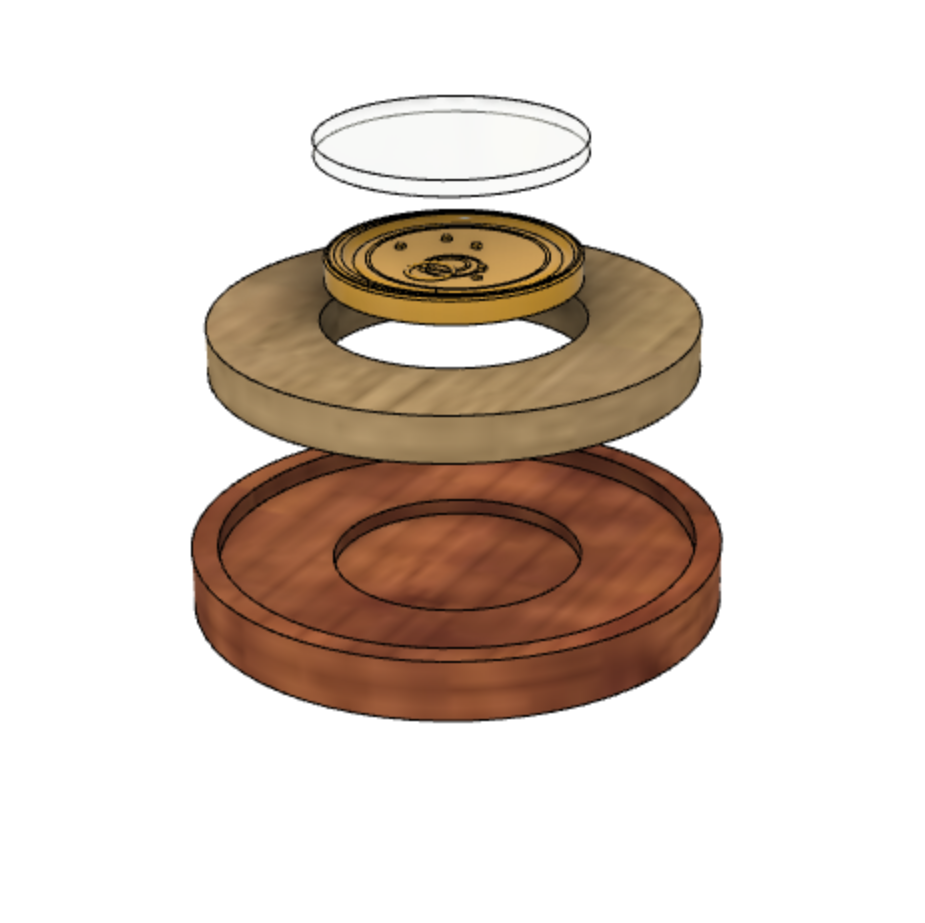 The design for each of the three parts will be done at home through guided exercise so they are ready to be printed or cut on the day.
These objects you make, are like badges of your achievement - your first digitally fabricated trophy as well. Or a nice coaster, which you can proudly sit your drink on!
Make sure that you are familiar with the presented material - and, if you wish, the additional tutorials and videos. Go back at any time to refresh your knowledge of the machines, and check for new videos and resources.
What we present contains all the background knowledge you need to make a start and design your project. We are going to recommend software (open source and free) to work on. Or if you are already using a specific package, send us a quick message and we can see if that would work on the day.
Our prepared exercises for each machine will help you to get practical experience with each: including the CNC router, the laser cutter and the 3D printers. These aim to teach you basics of design for digital fabrication, how you should prepare work to be printed / cut, how to have your work prepared before you step into the Fab Lab. And if you do not have the time, no issue, we will show how to prepare files and we can work together on this during the workshop.
Classes and Exercises are divided in four parts. For each part:
Download the relevant presentation:
Go through the PDF, read the information and watch the videos that are relevant to you.
Follow the guided exercise within as it helps your preparing your custom coaster for the practical part.
Please note: if necessary the group may need to be split into groups. This will allow time for everyone to get access to the machines and to work on their own activities.
On the day
Bring your laptop (if you can) - If you can't we will try to pair you with someone who does. If you'd like bring a notebook, or small material samples if you'd like to discuss them on the day.
Programme
The day will be split in three main parts, as follows:
PART 0 : GENERAL INTRODUCTION (10h00 - 25 minutes)
What is Fab Lab Limerick? Our story from 2012 to today.
Examples, Inspiration - current projects, research. Questions for the day.
What are Digital Fabrication technologies and how do each of them work? What is Additive and Subtractive Manufacturing - what's the story with Open Hardware, and how has this influenced the development of this technology.
PART 1 : 3D printing (10h45 - 75 minutes)
This course will explain the concept of 3D printing and demonstrate how to use a 3D printer with demonstrations on our Ultimaker2 and more. 3D printing is an extremely versatile prototyping technology which has a large variety of available materials. And 3D printing is a very accessible technology, advancing all the time with dedicated online communities and open source designs.
As 3D Printing takes time, it is the first focus of the class. Thereby several prints can be done over the day.
Presentation and discussion of various 3D printers * we introduce FDM, SLA, SLS and other technologies.
Preparing or slicing your own designs
Start Printing!
LUNCH BREAK (12h00 - 13h00)
PART 2 : Laser cutting (13h00 - 120 minutes)
Learn to make your own designs in plastic, textile, paper, cardboard, timber at a high speed with an incredible degree of accuracy, with our professional Trotec Laser Engraver. Learn how to prepare your own designs, the huge range of materials possible, safety and operation of the machine.
First we introduce the laser cutter machine, and see a demonstration.
Discover our materio-thèque (Material Library): Wood, Stone, Glass, Plastic, Veneer
Learn how to prepare the machine and use the software while setting up your job.
Prepare Cuts and Engravings with the files you prepared at home.
Any remaining time will be dedicated to further laser cutting, other features and discussion.
AFTERNOON BREAK (15h00 - 30 minutes)
PART 3 : CNC router (15h30 - 120 minutes)
In this course, we go through the basics of going from your 2D drawing to your very own routed, engraved or cut object. Our CNC router can be used to cut many types of timbers, plastics and some soft metals, with a size up to 2440mm x 1220mm x 200mm.
Get some practical experience on the CNC router
Learn more about the different tools and what they are used for; about different accessories and how to change bits
Learn how to get the machine up and going, as we cover calibration, different materials and safety.
Learn how to use CAM software (Computer Aided Manufacturing). Prepare and make the file you prepared before the class.
END OF THE DAY (Until 6pm)
We will be available as you finish assembling the various parts you made during the day. Up to 6 pm, will use the time for additional discussion and for other things you want to try.
Each class is €18 for students and €30 for adults. For booking 3 classes together, prices are €45 for students and €75 for adults.
A deposit of €15 required. Please pay the remainder on the day. Reserve your place here!